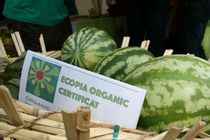 Letter from the organiser
Allow me to express my gratitude for your purchases and encouraging comments during the first organic farmers market. Indeed we had a visit of more than 220 people and phone calls from more than 25 people for excusing and expression there wish to join for the next market day. I would like to use this occasion to say thank you to all the suppliers but also the Facebook and email supporters of Ecopia and the organic farmer market.
All the products from ISD supported farmers coming from Holeta, (34 kilometre away from Addis Ababa) 81 individual farmers organised in 4 association brought organic lettuce, Potatoes, Carrots, Ethiopian Spinach, Herbs, avocado, Trengo etc) were sold, the farmers were very happy to meet you individual and to learn your appreciation to their hard work to keep organic and ensure their sustainable development, I am glad also their products were fair priced and affordable to the local and international communities. I am sorry that we all could not have the organic Potatoes and carrots as much as we wanted. I had to share mine also with some of you. The farmers promised to bring more for the next time.
Our Biosphere Reserve products were also presented by our organic women coffee farmer who shared her products of coffee and honey. Some of you, especially UNESCO presences by Dr. Benno Böer has encourage her to continue to offer special forest coffee and honey to consumers.
 Nutri-Dense Agro Processing company with Alem Graling food expertise provided us healthy breakfast Musle produced from Oat flasks, barley, sesame, teff, honey etc. I have bought myself two of them just before they were finished at 12:30.
Our Fruits that have been ripe in their trees have not lost their consistence's on the traveling of long journey from Lante (Banana), Assosa and glad they could fulfil every one's expectation.
The big story of the day was what is "Seaman Oil milled by Camel power" and why more expensive than the clear Ecopia machine milled seamen organic oil. I would like to use this occasion to express my gratitude to the Dipesa Agro Plc who supplied Humera Organic export standard seeds for Ecopia for milling the seeds. You can use the sesame oil for your dressing of ….
It's one of the most distinctive, fragrant and flavourful oils you'll find, with a slightly sweet, nutty flavour that's enhanced by toasting the seeds. Sesame seed oil is essential in oriental dishes: don't use it for frying - instead, sprinkle it sparingly over the food just before serving.
Ecopia black seed oil was also one of the topic for those who had a problem with their hair lose.
I am sure those of you who bought Ecopia special tea have by now or end of the week identified the e ingredients. We are sure the line in the next organic farmers market for Ecopia special tea will be interesting to observe.
I hope you enjoyed the special services of Ecopia team and we are looking forward to see you and your friends on the next organic farmers market in the same place the 25 of November 2017.
Looking forward to see you the 25 November 2017, Thank you
Farmers Frech market
In the compound of Migbare Senay General Hospital (Direction: signal, Adwa bridge down).
Saturday the 25TH of November from 9 am to 14.00 pm
Dr. Mitslal Kifleyesus-Matschie